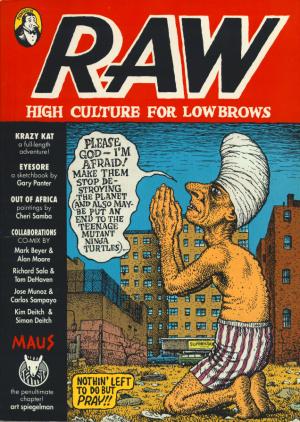 Raw Vol. 2 No. 3
Publisher: Penguin Books
Published: 1991
Format: Color and B&W, 228 pages, 16.5x23 cm, squarebound book
ISBN: 0-14-012282-6
Out of print

Other artists featured includes Jaques Loustal, Ben Katchor, Kaz, George Herriman, Muñoz & Sampayo, Aline Kominsky-Crumb, R. Sikoryak, Richard Sala, art spiegelman, Joost Swarte, Justin Green, Gary Panter, Mark Beyer, Alan Moore, Lynda Barry, Krystine Kryttre,

Cover copyright © Robert Crumb

---
Thrilling Adventure Stories
This may seem like a formal exploration at first glance. The drawings tell the story of a super hero saving the world, while the text contains reminiscences from the narrator's childhood. All the world balloons, sound effects and captions contain this narrative, completely disconnected from what is pictorially depicted.
The story in the drawings tells a story that seems to be not entirely untypical of super hero stories from the 1940's, which is also the style it's drawn in. A mad scientist plans on destroying the world, kidnaps a journalist, and the super hero rescues the journalist and saves the world. (The manner in which he does this is somewhat unconventional -- he shrinks his size, enters the scientists brain and does a connection inside the brain which makes the scientist sane again, before the scientist blows himself up.)
The story in the text is unsettling. Taken at face value, it's amusing anecdotes from the narrator's childhood, but the things hinted at are downright creepy.
It's a brilliant and very memorable work. I first read it six years ago, and it's something that's made a lasting impression.

---