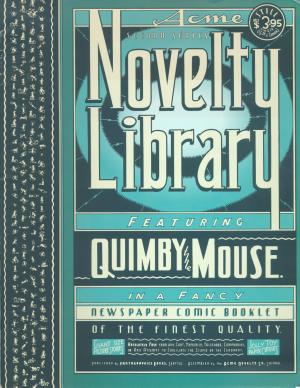 The ACME Novelty Library No. 2
Publisher: Fantagraphics Books
Published: January 1994
Format: B&W (with spot color), 28 pages, 28x35 cm, stapled book, white paper with cardstock covers
Still in print; can be bought from Fantagraphics Books

---
With the publication of this volume, people started to pay attention to what Ware was doing. While his anthology appearances had been impressive and the first issue of the ACME Novelty Library had been well received, the second issue of the Novelty Library was an eye opener.
These mostly word-less strips, beautifully drawn and lovingly designed not only made it very plain that Ware was a masterful craftsman, but also that he was capable of doing things in the comics medium that nobody had ever done before.
This work pushes the act of reading to the forefront. Describing what these strips are «about» is somewhat beside the point -- reading them is like reading poetry or listening to music. Themes present themselves, shift, are repeated, and the whole weaves together into something far greater than its parts.
Even though these magical stories open up many avenues for interpretation, I think doing so might spoil it for other readers. Instead, here's an overview of the contents of the issue:
Front cover.
Quite funny fake ad parodying those «Are you a weakling?» ads.
Two pages of typeset text -- editorial, letters, jokes -- all as parodies of various genres.
21 pages of strips.
One page of fake ads, including a hilarious quarter-page «Jimmy Corrigan» satire.
A toy model -- a chair for the figure in the first Novelty Library.
A color Quimby strip on the back cover.
It's an emotional roller coaster ride of death, loss, humor, nostalgia, daydreaming and dream logic.
Ware has even left us negative people with something easy to criticize -- the text pages aren't actually funny. They're amusing, written in a «let's sneer at this, then» «ironic» manner, but only occasionally does the humor go anywhere. To take an example -- the parody of the «weakling» ad starts out rather funnily, but to me it seems that Ware runs out of things to say about the subject before he runs out of space he has to fill using that tiny typeface he uses. Graphically it looks marvelous, but actually reading it is something of a chore.
This is only a minor quibble, and the text does give the book a fuller feel; the text pieces may be necessary ingredients for the comic as an object.
I could spend a few more paragraphs trying out my thesaurus for a hundred ways to say «this is really, really, really, really, like, good», but I don't see what's the point. If you haven't bought it yet, you must; and if you have, you already know what I mean.

---