Budd / Fraser / Guthrie / Raymonde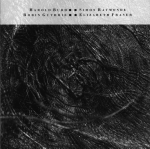 CAD611, CADC611, CAD611CD (1986): Sea Swallow Me, Memory Gongs, Why Do You Love Me?, Eyes Are Mosaics, She Will Destroy You, The Ghost Has No Home, Bloody And Blunt, Ooze Out And Away Onehow

Featuring Richard Thomas (Dif Juz). Sleeve by 23 Envelope and Nigel Grierson. This is a collaboration between Cocteau Twins and minimalist pianist Harold Budd. «Memory Gongs» was also featured on Harold Budd's «Lovely Thunder» album, there titled «Flowered Knife Shadows».

---